Education and Career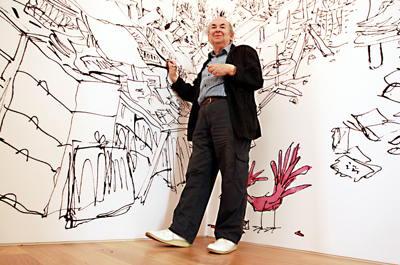 Blake was born in 1932 in Sidcup, Kent, and was evacuated to the West Country during the war. He attended Holy Trinity Lamorbey C of E Primary School and, later, Chislehurst and Sidcup Grammar School, where his English teacher, J H Walsh, influenced his ambition to become involved in literature. His first published drawing was for the satirical magazine Punch, at the age of 16. He read English Literature at Downing College, Cambridge from 1953 to 1956, received his postgraduate teaching diploma from the University of London, and later studied part-time at the Chelsea School of Art and later Camberwell College of Art. He has since denied that studying at the University of Cambridge contributed to his artistic or creative talent. He gained a teaching diploma at the Institute of Education.
During the 1960s, Blake taught English at the Lycee Francais de Londres which cemented his long association with France and culminated in the award of the Legion of Honour (see below). He taught at the Royal College of Art for over twenty years, where he was head of the Illustration department from 1978 to 1986.
Blake illustrated "The Wonderful Button" by Evan Hunter, published by Abelard-Schuman in 1961.
Blake gained a reputation as a reliable and humorous illustrator of more than 300 children's books, including some written by Joan Aiken, Elizabeth Bowen, Roald Dahl, Nils-Olof Franzen, William Steig, and Dr. Seuss. The first Seuss book that "Seuss" did not illustrate himself, Great Day for Up! (1974).
By 2006, Blake had illustrated 323 books, of which he had written 35 and Dahl had written 18. To date, Blake has illustrated two of David Walliams's books and has illustrated Folio Society Limited Editions such as Don Quixote, Candide and 50 Fables of LaFontaine.