The Beach
Ultra Music Festival was founded and produced in 1999 by business partners Russell Faibisch and Alex Omes. Faibisch, who had attended Depeche Mode's Devotional Tour at the Miami Arena in 1993, named the music festival in honor of Depeche Mode's 1997 album, Ultra. The first festival was held as a one-day event on March 13, 1999, coinciding with the end of the Winter Music Conference. Inaugural artists at the 1999 fest included Paul van Dyk, Rabbit in the Moon, Josh Wink, and DJ Baby Anne. The first Ultra Music Festival, which was held in Collins Park in Miami Beach's South Beach, proved popular, with an estimated ten thousand concertgoers in attendance. However, Faibisch and Omes still saw a financial loss of between $10,000 to $20,000 during the festival's inaugural year.
In March 2000, the festival returned to South Beach's Collins Park as a one-day event and partnering with Coolworld Entertainment; the festival was met with even more success and was renewed immediately for a third year.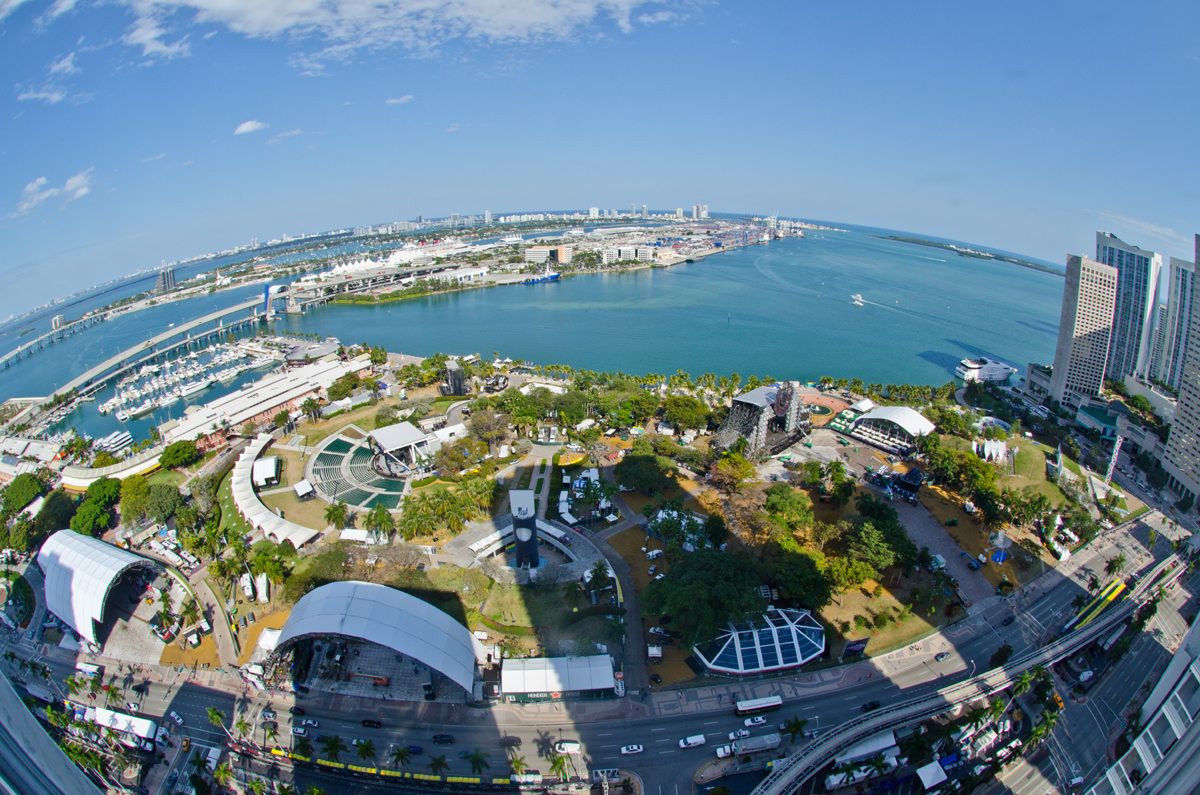 Growth
Because of the massive rise in attendance between 1999 and 2000, festival organizers decided to relocate to Bayfront Park in Downtown Miami for the third annual event. UMF continued to bring the biggest names in electronic dance music to Miami with performances by Robin Fox Tiësto, EC Twins, Paul van Dyk, Paul Oakenfold, Sander Kleinenberg, Photek, Josh Wink, p.a.w.n. LASERS, DJ Craze, and Rabbit in the Moon from 2001 to 2005. With the record-breaking attendance of the seventh annual UMF in 2005, the festival was again relocated to a smaller (by area) venue, Bicentennial Park, for 2006. In 2007, with Winter Music Conference in full swing, Ultra Music Festival held its first two–day event at Bicentennial Park with a record breaking 50,000+ concert goers in attendance. Ultra Music Festival celebrated its 10th anniversary March 28–29, 2008 with performances by Tiësto, Underworld, Justice, Paul van Dyk, Carl Cox, Armin van Buuren, MSTRKRFT, deadmau5, Annie Mac, Eric Prydz, Ferry Corsten, Calvin Harris, Moby, The Crystal Method, Boys Noize, Benny Benassi, Armand van Helden, Duck Sauce, David Guetta, Jes, Enur, Pete Tong, Jackal & Hyde, Dj MYREN from Iran and Rabbit in the Moon.
With estimated attendance over 70,000, the festival set a new City of Miami record for number of tickets sold at a single event. The 11th annual UMF occurred March 27–28, 2009; the lineup including more crossover acts and live bands like The Black Eyed Peas, The Prodigy, The Ting Tings, Santigold, Crystal Castles, The Whip, and Perry Farrell. The 12th annual UMF took place March 26–27, 2010, with headlining performances again by Tiësto and deadmau5, as well as performances by David Guetta, Orbital, Little Boots, Sasha & Digweed, Above & Beyond, and The Bloody Beetroots. Each stage was accompanied with visual arts provided by VJs Vello Virkhaus, Psyberpixie, and Cozer. The festival sold out for the first time with over 100,000 attendees, where it was announced that the 13th annual event would take place over the course of three days in March 2011.