Filming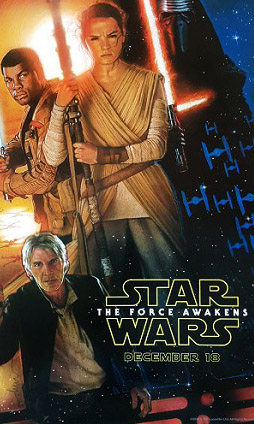 In February 2014, Abrams said filming would begin in May and last about three months. In March, it was revealed that pre-production filming would be taking place in Iceland prior to the start of official filming in May, consisting of landscape shots which would be used for scenery in the film. Later in April, it was revealed that in addition to 35mm film, segments of the film were being shot in the 65mm IMAX format.
Abrams and members of the cast went to Abu Dhabi in early May, where large sets were built at the location, including a shuttle-like spacecraft, a large tower and a big market, and explosives were used to create a "blast crater". Cast members were spotted practicing driving vehicles that would be used during filming. Production moved to Pinewood Studios in June.
On June 12, Harrison Ford fractured his leg while filming at Pinewood after a hydraulic door fell on him, and was taken to a hospital. Production was suspended for two weeks to accommodate Ford's injury. Jake Steinfeld, Ford's personal trainer, said in July that Ford was recovering rapidly. Coincidentally, Abrams also injured his back when he was trying to help lift the door after Ford's accident. However, he kept this to himself and did not tell anyone about it for over a month.
On July 29, 2014, filming took place over three days at Skellig Michael island off the coast of County Kerry in Ireland with a cast including Mark Hamill and Daisy Ridley. Production was halted for two weeks in early August 2014 so Abrams could rework shooting in Ford's absence and resumed with a fully healed Ford in mid-August. In September 2014, the former RAF Greenham Common military base in Berkshire, near Pinewood Studios, was used as a filming location and featured set constructions of several spaceships from the Star Wars Universe. Principal photography ended on November 3, 2014.